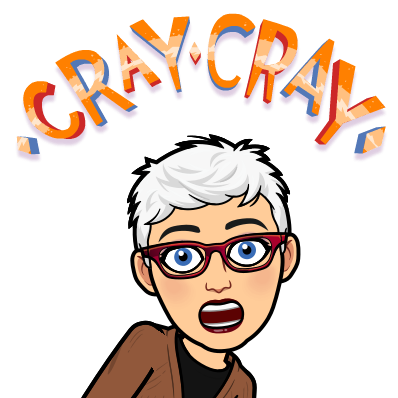 Control my life? I can't even control my hair! This one is for my #taxpro friends and #TaxTwitter. I can't find the tweet or the article linked in the tweet but former Taxpayer Advocate, Nina Olsen, expects this filing season to be "a disaster." And she said this after, well, last filing season. So I'm going to offer some of my best pearls of wisdom (do as I say, not as I do) for managing the chaos (to paraphrase Alan Greenspan, both the known chaos and the unknown chaos).
Control the Bits & Pieces
Clip (electronically) your research and save it to the client's tax file with a file name long enough to help you when you go looking for it. For example, "Tony Nitti Article on Partnership Basis and Deductible Losses." Or "IRC Section 1212 on net capital losses for individuals and entities." Don't ever count on being able to remember why you saved something or what a file is when it just says "IRC 1212". Help yourself in advance. You'll thank me later.
Same thing for e-mail responses to client questions. Mine are usually long and detailed. Save the whole thread with a file name that describes what is in the thread. For example, "E-mail on why K1 losses are not deductible – basis tracking issues." That way you never have to remember what was in the e-mail. Yes, you can simply keep every e-mail you ever send and receive and use the search feature, but I find being able to simply go to a client's tax file for a given year and find what we discussed and the decisions we made (and why) saved in PDF files incredibly convenient.
Control the Engagement
Use an engagement letter (long or short, that's a subject for another day) that defines the scope of the engagement. Mine has said for years that the engagement specifically ends with e-filing (or with delivering prepared returns to the client for signature and mailing). This year I made a handy dandy "menu" that describes what is included with "full service" return preparation and what are "add on" services. Spoiler Alert: Chasing EIPs and refunds are not included with return preparation. You can include them if you want, just adjust your prices accordingly. In any case, define the terms of the engagement and stick to them. Don't allow scope creep (or if you must, bill for it).
Automate Automate Automate
It doesn't take fancy software. My goal this year was to get a self-scheduler online since we are now requiring an appointment to drop off documents where in non-COVID times we had an open door policy. Done. But I added some client management software as well. But you don't need that (well, you probably do need the scheduling app). How much time do you spend answering the same e-mail inquiries over and over and over? I got a pro tip from The Number Queen herself early last year (or maybe late in 2019). Use custom e-mail signatures to automate responses! I've set up a wiki of common questions and canned responses. Each response is its own e-mail signature in Outlook. Get a question? Hit reply and then choose the appropriate pre-written signature response. Done. The bonus is the responses in the wiki are also used as mini-scripts for answering the most commonly phoned in questions as well. I'm also using the heck out of the wiki feature in Microsoft Teams to create volumes of information for the office on how we use specific pieces of software, handle specific inquiries, etc. I get tired of trying to remember what I decided and really tired of repeating my decisions (or worse, deciding something different than before for a different reason). So now I'm putting it all into our office wikis. Teams is pretty common. If you aren't using the wiki app you are missing out.
Control the Dialogue
You are monitoring this stuff (the ever changing tax law stuff and what happens in your office). You know what clients are going to be asking. Use mass text or e-mailing software to schedule pre-emptive strikes. My clients are amazing. Generally they don't call or e-mail about anything they are hearing in the media or from their friends because they know that if it's important I will be sending out a mass e-mail—with actual facts in it. So they just wait to hear what I have to say. And if they are the 40% who don't open the e-mail? Well, we paste the e-mail campaign into one of those phone/e-mail scripts I mentioned previously and just use that to respond.
I use this blog to control the dialog as well. I answer many common questions for clients and potential clients here. When we get an inquiry that's something I've already written about, we have a pre-programmed response that says, "Hey, Amber has actually answered that [here]" and provide them with a link.
Stay in the Driver's Seat
Finally, don't let the clients drive your business. The customer is not always right. Start as you mean to go on! You will reap what you sow. What the hell does this clichefest mean? That it's your business. It's on you to set the rules of the game and to maintain your boundaries. If you allow clients to circumvent your well-thought out processes and policies you are going to end up doing more exception handling than actual work. That's what happened to me last filing season. I cut lots of people lots of slack. The only person who didn't get any slack was me. And that could have ended really badly. This year I am going into tax season with my systems, policies, and procedures as the armor that will protect me from whatever slings and arrows the IRS and Congress throw at me. I'm not expecting perfection (even Achilles had his heel) but if I can mitigate 80% of the chaos from the 20% of the clients and potential clients who cause it that is a big win!
Stay frosty out there.
#fullambo out