This is me, showing you how to hold onto some of your money (or to mitigate the tax consequences of using it)…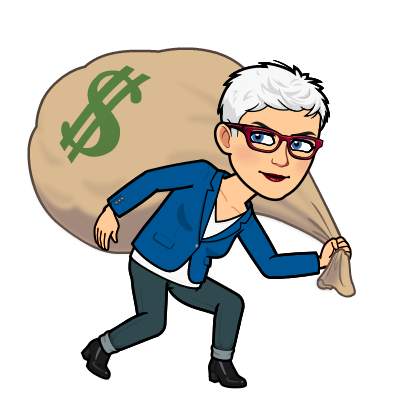 Required Minimum Distributions (RMDs)
Recent legislation has suspended RMDs for 2020. If you haven't already taken your RMD for 2020, you don't have to. This includes RMDs from inherited IRAs.
You know what else got suspended? RMDs that were required by April 1, 2020 because the taxpayer turned 70.5 in 2019. Yep, so if you had to take your very first RMD in 2019, you actually had until April 1, 2020 to take it and now you don't have to take it at all. Great if you happened to forget about it!
And remember, if you are turning 70.5 in 2020 your RMD age was increased to 72 (by the SECURE Act) so you don't have a "first" RMD requirement this year. You take your first RMD by April 1 the year you turn 72.
But, Amber, what if I did take my RMD? Well, there might be some relief for you too. You have 60 days to roll that money back into your account or into an IRA (but you are only allowed one of these rollovers in a 12-month period, so be careful if you've done one recently). There's a lot of fine print on this so it's best to talk with either your investment adviser or an investment adviser you can trust. I happen to know one. Feel free to use the form on the home page or send me an e-mail if you would like his contact details. He can answer your questions, help you determine if you are eligible for the 60-day rollover, and can help you set up an IRA if you are allowed to put your funds back but maybe want a new account instead of, say, your employer's 401(k).
Speaking of IRAs…
The deadline for making deductible contributions to your IRA has been extended to July 15, 2020 to coincide with the extended filing deadline. So if you haven't filed your return yet you can still tweak your contribution (maybe contribute your Economic Impact Payment if you are sure you won't need it). If you've already filed your return I expect you can still make an additional payment through July 15 and simply amend your return to reap the additional tax benefits. Please bear in mind that I have no official guidance on this specifically related to the CARES Act. It just seems logical that you would be able to amend your return to take advantage of the later contribution deadline. Remember, however, that amended returns must be filed on paper and if you use a paid preparer you will be charged for the work. You may even be charged more than you would save in taxes. It's important to do the math. And it's really important not to ask your #taxpro to do the math for you right now. I recommend waiting until at least mid-May to give us a chance to get through the returns on our desks (most of us are still working like the deadline wasn't extended) and until some of this small business loan business has settled down (more on that in a future post).
I Need Money Now!
The CARES Act also provides some help if you need to take money out of your IRA or 401(k).
You can take out up to $100,000 from your IRA penalty free. Not tax free! But not subject to the 10% penalty for early withdrawal if you are under age 59.5. You can also include this income in three equal parts over three years instead of all in tax year 2020. That can help you use your money and stay in a lower tax bracket! And, in an unprecedented move, you also have three years to put some or all of that money back should your circumstances change.
If you are allowed to take a loan from your 401(k) the amount has been increased to a maximum of $100,000 (from $50,000). The due date for repayment has also been delayed for one year.
Please note that these must be "COVID-19 Related" distributions or loans. It is important to consult your IRA trustee/custodian (for an IRA distribution) or your company's plan administrator and/or plan custodian (for 401(k) loans and distributions) to ensure that you meet the criteria for the distribution and to ensure you understand all of the requirements (the fine print). They can't give advice on the tax consequences (how much to withhold, etc.) but they can tell you if you qualify for the COVID-19 distribution based on your specific circumstances and give other information related to your specific investments or plan. Finally, considering the state of the stock market right now, it may be best to avoid selling stocks that are in your retirement accounts right now. I mean, you want to buy low, sell high, not the other way around. So if you can avoid cashing out, it is probably best do try to ride this chaos out without selling low.
#fullambo out