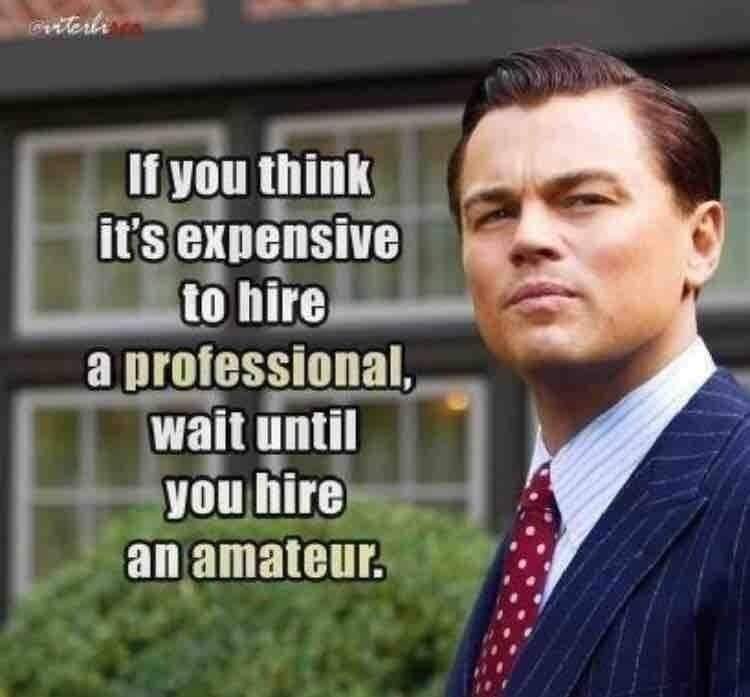 Well, what are you paying for when you hire me to prepare your tax return?
You are paying for my time, my education (at least 30 hours of tax education every year), and my experience. When you hire me, you will get a thorough review of your situation and your return—not simply data entry. Putting numbers in boxes? Cat does that, then I review the numbers, the results, the instructions, and the law and make sure your tax return is as complete and accurate as it can be before I e-file it for you. You also get some face time (or phone or e-mail time) with me. You get time with me—the person who prepares your return—not a cursory review of your return with an admin or junior staffer and a 5-minute handshake with the partner who signs it. You get a 30-60 minute appointment to review your return and talk about next year. Additionally a certain amount of phone and/or e-mail time throughout the year is built into the price of the return. If you need a more involved consult, I'll always let you know that before I simply send you a bill for the time. And while someone else may answer the phone, schedule your appointment, or call you back with an answer it will always be me providing the answers. And you get answers and explanations that you can understand and I will work with you to ensure that you understand what is on your return before it is filed, not just say "sign here" and push a button.
Why am I "so expensive" compared to box software?
First and foremost, box software is a "do it yourself" option. You buy, download, and install the software. You download the information into it or enter it yourself. You answer the interview questions and your questions about those questions are answered by someone in a call center, not by someone who has reviewed (or prepared) prior years' returns. You push the button to e-file the return. You follow up to make sure the return was accepted. And then you do it all again next year. If you have questions during the year or get a notice, you are largely on your own. When you hire me, I do your tax return, not my computer.
As a paid preparer, I have obligations that people who prepare their own returns do not. If you are claiming the American Opportunity Credit, the Earned Income Credit, the Child Tax Credit, or file head of household, I have a boatload of due diligence and extra paperwork to do to ensure that you are eligible for those credits. If you're doing your own return, you just fill out the form and that's it.
As a paid preparer I am responsible for your information. When you prepare your own return, if your computer gets hacked or your information gets stolen the only penalty involved is the work required to fix the problems. I on the other hand have a huge amount of potential liability and exposure because I am expected to keep your data secure. I am actually required (all paid preparers are required) to have a written information security plan.
I am not, however, required to have either professional liability (malpractice) or information security insurance but I have both. Why? Because it is the responsible thing to do. Because I don't want to go out of business because of a data breach (although I do everything in my power to prevent that from happening) and I have no intention of disappearing if I happen to make a mistake on a tax return. I try my best to do accurate returns, but tax season is long and short at the same time, I am human, and mistakes, while rare, do happen.
Finally, like anyone else who owns a business, I have overhead. Your fee pays for my rent, my phone and internet, Cat's salary and payroll taxes, my equipment and furniture, my tax and security software and licensing, my continuing education and reference materials, and whatever is left over after the bills are paid pays me. This is how I earn my living. I'm not trying to rake you over the coals. I know plenty of preparers who charge what I charge (or more!) and who cut corners on software, security, education, insurance, etc. That isn't me. I charge what I consider to be fair prices that are in line with national and regional averages and that provide me with fair compensation for the skills I have (and that I continue to maintain) and for the work I put into preparing your return.
Good #taxpros always strive to add value above and beyond simply putting numbers into software. If yours doesn't, please give us a call (505-352-0058) or send us an e-mail. We are accepting new clients.